Twelve Signs of 2021: Virgo – "To Be of Use"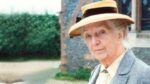 It is completely unimportant.    That is why it is so interesting.
                             ―
The sign of Virgo, ruled by the planet Mercury, is associated with the sixth house. Virgo and sixth house matters concern work, health, and service. Mercury signifies a sharp and analytical mind. My long-time favorite mystery writer, Agatha Christie, was born under the sign of Virgo. Her analytical mind brought forth colorful characters and unforgettable detectives Hercule Poirot and Miss. Marple.
There are many famous Virgoans (they must be the busiest people of the zodiac).  Even Greta Garbo who "wanted to be alone" put her soul into her subtle and understated performances.
Mother Teresa persevered, healing one soul at a time:
We ourselves feel that what we are doing is just a drop in the ocean. But the ocean would be less because of that missing drop. 
For Leo Tolstoy, his life's work was exploring meaning and faith:
It is the work and not the reward that is precious.    
 To Be of Use   
While I have no planets in Virgo I have an active sixth house ruling work, health, and small animals. In my idealistic twenties I joined VISTA (Volunteers in Service to America) and served in rural Kansas.  On my bedroom wall I hung the poem "To Be of Use" by Marge Piercy which begins:
The people I love the best
jump into work head first
without dallying in the shallows
and swim off with sure strokes almost out of sight.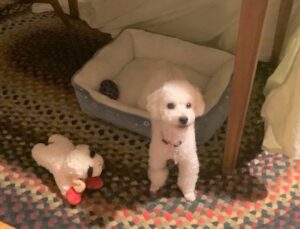 Small Animals – Arrival of Dolce
I adopted a small animal last week at Poodle Rescue of Ct.:  a four-year old toy poodle.   "Dolce" is very sweet. We hope that she will enjoy "La Dolce Vita" in her years with us.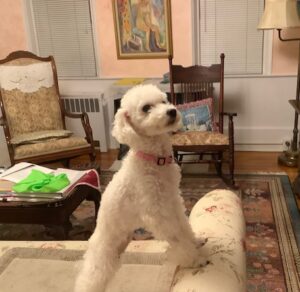 A Remembrance: September 11, 2021
This weekend we remember 9/11/01.  I will be taking part in a Commemoration through the Arts at the United Methodist Church in Harwich with four paintings including the two below. The art exhibit opens Saturday with music and poetry. Sunday services will continue the remembrance followed by a reception for artists and poets at 11am. Come and See – everyone is invited!
Here is my reflection  along with the paintings I will have on exhibit.
Memories of 9/11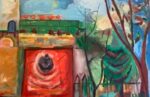 My memories are visual. The morning of 9/11/01 my brother from Los Angeles and my mother came to visit. They heard the news as they crossed the bridge to the Cape. I still picture the three of us in my living room watching the incredulous site of the falling towers.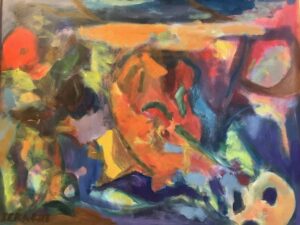 The next day I met with a woman, a flight attendant. Over the past year I assisted her in discerning whether to return to work or retire. 9/11 was a turning point. Her route was the same as the plane that crashed into the Pentagon. The crew who perished were her co-workers.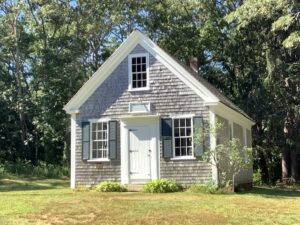 A week later in Kelley Chapel, in our village of Yarmouth Port, a group of pilots and flight attendants from American & United Airlines gathered in uniform to mourn their losses and honor their heroes. I officiated that day. I will never forgot the men and women in uniform and the deep sadness that pervaded the chapel. What a privilege to share a moment of intimacy and offer a time of solace.