The Twenty Year Poodle by Anne Ierardi

This extract is from my memoir, coming in the summer!
The dog is a gentleman; I hope to go to his heaven, not man's.
-Mark Twain
For years I told my wife I wanted a dog. She repeatedly said no. I felt ambivalent myself, as it was so long since I'd had a dog. I worried something bad might happen; when I had had to part with two dogs because I didn't have an adequate home for them. Now that we had a large house on Cape Cod with a yard and I worked next door to my home, it seemed the perfect time.
But what kind of dog? I discovered Poodle Rescue of New England. I could help rescue a dog! I decided to get a rescue poodle because I wanted to help rescue a dog; also poodles were smart and non-allergenic. I heard that poodles rank number two after Border Collies in intelligence, which would be ideal for helping me in my therapy work as a pastoral counselor. A relational dog to work with me at Healthsigns. Judy said defiantly, "It's me or the dog." I took the gamble and replied, "The dog." After twenty years with Judy, I knew she doth protest too much.
The Provincetown florist was part of Poodle Rescue of New England. In October of 2000, I timidly entered her shop to inquire about adoption. She gave me the contact information. I filled out the two page application and mailed it in. The weekend before the New Year of 2001 was bitter cold. A call came in from a poodle foster home in Milton. "I have a seven-month-old black male miniature poodle. Would you like to come see him?"
I paused and said, "I wrote on my application that I wanted a female."
"Yes, I know," the voice answered, "but he has a gentle personality; he is not an alpha dog; I think you'll like him."
"I will be there on New Year's Day," I said. Judy agreed to accompany me, though she was still dead-set against a dog. Her tone became, "It will be your dog."
Poodle Rescue of New England
An Asian-American woman named Evelyn opened the door and welcomed us to her home. Two huge beautiful standard poodles were scampering around; a tiny jet-black poodle with a white-striped and mocha beard was playing with them. His body was the size of their heads.
Evelyn offered us tea and we talked. She said we were fortunate to get a puppy; all of his veterinary care was complete. Did I want to hold him? She put him on my lap. There was something sad about this little creature; he melted into my lap and went to sleep. Evelyn asked if Judy wanted to hold him. "No," Judy replied stone-faced.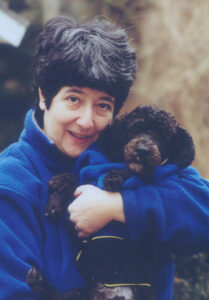 As the puppy continued to cling to me, I knew that I would adopt him. "What is his name?" I asked. "Luigi was his name," she said. "Two young boys used to visit him in a pet shop in Newton. He was there a long time. A man brought him home for his wife, but she preferred a Chihuahua, so he took him back. The boys begged their mother to take him out of the pet shop; she agreed, provided he would go to Poodle Rescue for adoption. Around Christmas time they saved their allowance, got him out, and brought him to their home for a week. Then he came here. We got him ready for adoption and named him 'Flying Dutchman' based on his unsettled history."
Before we left with our new poodle, Evelyn gave us a sweet blue sweater with "VIP" on the back, along with a chicken toy from the boys. Boston was colder than the Cape and the sidewalks were a sheet of ice. Since I usually drive, Judy would need to hold the dog. The Flying Dutchman was shaking, so Judy put him inside her coat and held him until we made it safely home.
I could see some early signs of connection developing between my puppy and Judy. "He's not coming in the bedroom," she declared. I agreed to keep him in the kitchen. During the night, we woke to his cries. I went to comfort him. He was sleeping with the little chicken toy.
A Dream
That morning Judy told me her dream. "I dreamt the dog was sitting erect and graceful in a lotus position. Looking up at me he said with a Chinese accent, 'I am eighty-two-years-old.' I wonder if he could be my Chinese grandfather?"
"Yes I am sure he could," I said quickly, silently hoping this might contribute to the bonding process.
After another sleepless night with the dog in the kitchen, Judy began to soften and now he graduated to our bedroom. I ran out Tuesday between clients and bought two beds for him; one for my office and one for the house. Each night before he went to bed he came around to each side of the bed and pushed himself up to the edge with his front paws to greet Judy and I. I don't think he did this in a particular order, almost careful not to play favorites. "I think he is saying goodnight to us," I told Judy. "Yes," she was clearly impressed, "Can you believe it? Have you ever seen a dog do that before?"
Duchy gets a job at Healthsigns Center
My clients loved him and we talked a lot about dogs for a few weeks. One of my counselors chided me for not calling him by name. I wasn't sure what to call him yet. We liked Luigi and figured the boys came from an Italian family. Nevertheless, shouldn't he have a French name?
Flying Dutchman was too long and now that he had a permanent home, it didn't exactly fit. I decided on Duchy, as in the Duchy of Brittany, Anjou, etc. It seemed a proper balance between sophisticated and winsome. We also called him at Healthsigns, my counseling center, "Dr. Duche՜".
After a couple of months, Duchy graduated again, this time to a permanent place at the end of our sleigh bed. By now, Judy was crazy about Duchy, walking him every day and meeting all our neighbors. After only a week, her colleagues noticed a change in her. "Dr. Recknagel, you look so happy!" a nurse exclaimed. Dr. Recknagel even told a depressed patient to go get a dog, and away she went for the "canine cure."
Best Man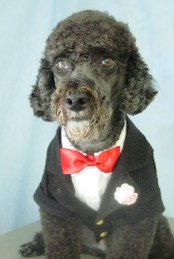 Duchy followed me to work, past the boxwood bushes surrounding our English garden, out the white picket gate, up the path past the newly designed Healthsigns garden to my cottage office. He reminded me of the movie I saw in Psych 101 of the ducks that followed the psychologist like their mother. Soon he knew each of my clients and how to respond to them; whom to lick in the face, whom to curl up next to, and whom to leave alone. Many times, he consoled a tearful person. He was particularly attentive to the teenagers I saw. Hardly anyone came in distressed anymore.
He especially loved the two "dog biscuit ladies;" he would sit, lie down, and dance, shaking his head from side to side. Sometimes he'd fall asleep in his bed during a session and let out a moan if someone was carrying on angrily. Duchy also groaned if Judy and I talked in bed too long at night when it was time to go to sleep.
When Duchy was still a puppy, a new client Tim came in for counseling. He was referred by his wife who threatened to separate if he didn't change his ways. A middle-aged curmudgeon, he told me during our first session, "If I knew you were a minister I would never have set foot in your office." While I grew fond of Tim, Duchy really tipped the scales. The two of them spent the first few minutes of every session playing. Tim said, "My dog or cat doesn't receive me like this. He's got too much personality for a dog."
One day when Judy was out walking Duchy, Tim came in looking concerned: "Where is he?"
"Oh, he's out with Judy," I said.
"Well I am only going to pay you for half. We males have to stick together."
After a couple of years Tim said, "I am coming for myself not for my wife." I must admit that while I will take some credit for changing his perspective, Duchy deserves the credit.
Judy and I had spent a lot of quality time with Duchy when he was a puppy. His coat was not healthy so we got a natural healthy formula dog food and mixed it with flax seed oil. To help him relax and feel safe, I would hold him to my breast and we would fall asleep together. We took him to puppy class. A dog trainer came out to the house and saw he was withdrawn. He never barked. "Just build his confidence first before formal training," he advised us.
The First Bark
One day when my friend Kula came over to do some counseling supervision with me, she brought her huge shepherd Q to meet Duchy. Q was trained by the Monks of New Skete and worked with Kula doing therapy. Unexpectedly he lunged at Duchy; Duchy barked and ran like hell. From that day on, Duchy barked if anyone came to the door or if he heard a neighborhood dog barking. Kula came to see me about once a month and gave the Pasha, her nickname for Duchy, a biscuit before we began our time together. One day she put her suede gloves on top of her briefcase on the kitchen floor. Duchy snatched the gloves and put a big hole in one glove before I caught him. I said to Kula that I would get her a new pair at Filene's, which I did. In fact, Judy and I established a Duchy fund for other such casualties, which included two pairs of gloves and a pink-laced panty stolen from an overnight guest. When Kula returned a couple of months later, Duchy went into his basket and brought Kula her old glove. Who said dogs don't remember?
Duchy got himself into trouble a lot in the first two years we had him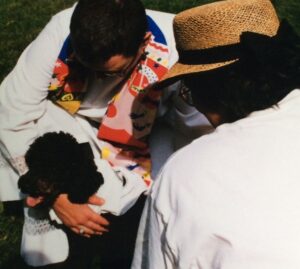 . At our Welcoming Congregations planning meeting, he took the toothbrush out of the Unitarian minister's purse and paraded through our living room with it hanging out of his mouth. He pulled the telephone out of the socket in my office and got the wires caught around his neck. He ran squealing around the cottage with the phone following him; I followed shrieking after him until I finally untangled it before he could choke. Then I sat on the couch, held him for a long time, and called Judy to tell her what happened. Another day, he swallowed a paper clip, so we rushed him to the nearest hospital, an hour away. The vet was able to remove it from his stomach with a closet-hanger type tool. Not long after that, I got a call from Judy while I was at a clergy retreat. "I think you better come home. Duchy is sick. He can't walk." We rushed back to the same hospital but the vet we liked was not in that day. A younger vet did an x-ray and said he couldn't find anything but he would put him on steroids. Judy was upset, and I could tell she was about to get angry. "I would never give prednisone to a patient without a diagnosis," she said, and stormed out leaving me to deal with the perplexed vet.
We carried Duchy out and drove back to the Cape. "I have an idea Judy. Let's call Loyall." Loyall, the husband of my former Hospice supervisor, was an animal lover and chiropractor. I had recalled he was privately seeing a few animals at his home in his spare time. I felt relieved when Loyall picked up the phone. "Bring him right over" he said kindly.
Loyall put the x-ray on his projector and said, "I see at the tip of his spine a small place that is causing this problem. I have a special instrument that has been used successfully with horses. He used it to touch several pressure points on Duchy's spine; miraculously Duchy stood up and walked. The next day Duchy slept soundly in the kitchen with Daddy-O cooing by his side. I had named Judy Daddy-O since I seemed obviously to be Duchy's mommy. The day after he rose up and walked; one more treatment and he completely recovered.
Our friends presented us with a photo of Judy holding Duchy with me, my hand on his back, at the water's edge. The wooden black frame forms the word, Family. Duchy made us a family and remained our loyal son for eighteen years.
Agility Class
After Duchy received his "Good Canine Certificate," which I hung in my office's waiting room, I took him to agility training, another way to boost his confidence and socialize him. After a couple of classes, we realized he was a people pleaser and could care less about competition. One class, made up of women with little Shetland Collies, seemed bred for serious competition with their focused, well-bred owners. The collies looked straight ahead while running up the ramps, through the tunnels, and the hoops. Like the students who got all A's in school, they had their eyes on the prize. Not Duchy; maybe he was taking after his mom too much. He greeted the owners of the collies;  distracted by all the excitement in the ring, terrified of losing his balance on the moving platform, and running through a dark smelly tunnel. I put treats at either end of the tunnel, stooping down to look through to him, calling him, begging him until finally he made it out the other side.
Judy didn't come to the second agility class; she often got nervous herself. "Stop pushing him. He's just a little dog," she'd yell at me. When she came to the next class and saw him jump through the high hoop, she had tears of pride in her eyes. The woman who didn't want a dog.